Valentine's Day is the day of love, and it is a great opportunity for women, whether in a relationship or not, to consider getting their Love Jones at the gym or through exercise.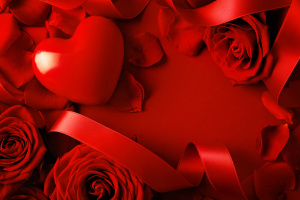 A new study by the Center for Sexual Health at Indiana University concludes that many women interviewed experience orgasm with physical exercise.  According to this report, these "corgasms" are linked to exercises for the abdominal muscles.  The research, directed by Debby Herbenick, relied on online surveys to gather data and included responses by "124 women who had experienced exercise-induced orgasms and 246 women who reported exercised-induced sexual pleasure." [1]  The majority of the respondents were between the ages of 18 and 63, with an average age of 30.  Most reported that they were either married or in a relationship, and 69 percent stated that they were heterosexual.
This study is significant for healthy green living because it gives women another really great reason to exercise, in addition to weight control, mood enhancement, prevention and management of a variety of health problems and mood enhancement.  Also, sexual health is an important component emotional, mental and social well-being.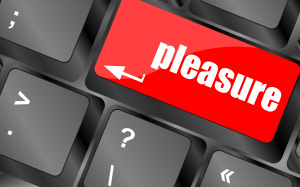 It is important to note that not all types of exercises were linked to the experience of orgasm.  The study results indicate that 45 percent of the women stated that their first sexual experience while exercising was linked to abdominal exercises; 19 percent experienced orgasm with biking/spinning; 9.3 percent with climbing poles; and 7 percent with weightlifting and running.  The remainder mentioned orgasm experienced with yoga, swimming, elliptical machines, and aerobics.  More women stated that they felt sexual pleasure as opposed to orgasm phenomenon.  The important takeaway here is that exercise can provide a healthy avenue in which a woman can learn to love herself, embrace her sexuality and cherish her body.
Love and sports
When one stops and ponders this concept, maybe it is not that unusual.  After all, if you have ever taken any classes at a gym, think about how engaged the female instructors tend to be, particularly in the spin classes, weight training and both the water and step aerobics.  I distinctly recall the level of excitement by the instructor in the Zumba classes approaching that of an old-time revival.  We all recall the recent uproar at Wimbledon whereby female tennis players grunted and shrieked during matches, prompting the tennis associations to launch campaigns to ban such behavior.  [2]  Just maybe these women are responding to exercised-induced sexual pleasure.  Of course, this would not be considered by the largely male executives of this sport, who probably would never give credit to any sexual pleasure to a source other than a man.  Finally, take a trip to a Baltimore sports event, such as an Orioles or Ravens game.  Even with the singing of the National Anthem, notice the crowd, especially the ladies, scream "O" with the last stanza.  Maybe, just maybe the exhilaration of the sporting event is teasing their sexual pleasure.
Christian Grey has nothing on us.
Unless you have been hiding under a rock, you are at least somewhat familiar with the book and just-released movie, Fifty Shades of Grey.  As I write this article, thousands of women are in line or online purchasing tickets to see this movie.  Well ladies, now you know you do not have to pay money and sit on the sideline letting Christian Grey be the stimulus for your sexual pleasure.  Spend your money on a gym class, a pair of running shoes or weights and take charge of your own orgasm or sexual pleasure.  Share exercise routines with your husband or significant other to enhance your relationships.  For the men– if you are still out there looking for that great Valentine's gift, consider the gift of a gym membership or a commitment to exercise together to improve the romantic aspect of your relationship.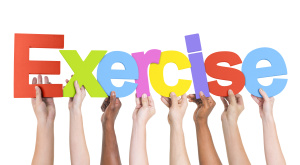 Valentine's Day is a wonderful time to celebrate love and life.  Hopefully, it will serve as a time for women to love their bodies, embrace their sexuality and strive for good health through exercise.  To do so is to live green, be green.
____________________
[1]  http://www.livescience.com/19145-exercise-induced-orgasm-sexual-pleasure.html.
[2]  http://www.bustle.com/articles/29044-why-do-female-tennis-players-grunt-as-wimbledon-approaches-heres-what-you-need-to-know-about.