Will you shake the hand that feeds you?
Food is essential for our survival as a species. Regardless of your dieting choices, omnivore, vegetarian, vegan, etc., as a living and breathing individual you must replenish your energy by consuming food. So isn't it best to satisfy your appetite with the essential vitamins and nutrients grown naturally? What about going one-step further and shaking the hand that feeds you?
The news is in, and has been for a while now. Conventional farming methods that utilize GMOs, chemical fertilizers, and practice monoculture are terribly unhealthy and counteractive to improving the environment.
Founded in economics, the monoculture model is a theoretical breakthrough. Business wise it makes complete economic sense. The economy of scale theory states that as you produce more of the same good, it becomes marginally cheaper to produce a single item. Lets say a farmer grows a 100-foot row of broccoli and it costs him/her 10 cents per broccoli plant. If he decided to produce 500 feet of broccoli instead, then they can cut the cost of one plant from 10 cents to, lets just say, 5 cents. Selling the broccoli for the same price as before will yield a higher profit for the farmer. But at what expense?  The expenses are for you and I to bear! To meet their bottom lines, these gigantic agriculture firms reduce the nutrition contained in the plants with fertilizers and pesticides, as well as wasting drums upon drums of oil in simply transporting food across the country, let alone oil use in tractors and other large machinery. This leaves our health and environment in question.
YES! There is a solution! It's surprisingly simple and right in front of us: eat local; eat food.  Smaller local farms are inherently better for our health and the environment.
Here is why. Smaller farms practice biodiversity, which works to strengthen the healthiness of the plants on the farm so there is little to no need for chemical fertilizers. Buying fruits, veggies, and meat from local farmers also works to boost the local economies and promote small businesses in your area.
But LGBG, say I want to change my food purchasing habits, how do I find local farms to buy groceries??  Well environmental enthusiasts, try starting with Slow Food USA! Slow Food is a global organization that advocates for small local farmers and works to combat harmful farming practices used by large conventional farms. From the website you can easily maneuver around to find Slow Food organizations in your area. There are many links to local chapters where you can find a farm right for you! Not only will they help provide you with farmers to meet but they sponsor many volunteer events that are a whole lot of fun. So I ask one more time, for the improvement of your own health and that of the environment, will you shake the hand that feeds you?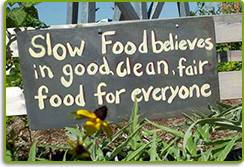 From: https://secure3.convio.net/sfusa/images/content/pagebuilder/sfusa_gardensign.p