Those recyclable, reusable tote bags, forgotten in your pantry, are the bags that can bear the burden!" –LGBG
A little less than a year ago, Live Green Be Green by PMD United set out to assist Lori Robinson and Africa Inside in her magnificent effort to eliminate the plastic pollution that affects many African Nations. We are happy to say that we have concluded this first project with great success.  Through the combined efforts of LGBG, Africa Inside, and Pati Arsenau's class at St. Gregory the Great Catholic School located in Blufton South Carolina, enough bags were collected as incentives for the Samburu Women of Northern Kenya's cleanup effort.
 We have hundreds more women for this than we expected. –Shivani Bhalia 
Women came in droves with the deadly plastic that they eagerly collected from the countryside, to offer in exchange for the totes.  It is truly amazing to see how such a small, and often-overlooked item, can make such a monumental impact on the lives of these women.  Samburu women, for now, will no longer have to travel with thin, mangled, unsustainable plastic bags, that most certainly would make their way to the precious fields and grasslands. They can now go to the markets with confidence that their staples (sugar, flour, spices) will return home with them safely and securely.  Just as importantly, the impact that this effort has on the environment is tremendous. Any reduction in plastic that makes its way to the countryside means less plastic for the precious wildlife to come in contact with and for an all around more aesthetically beautiful country.
We, at Live Green Be Green, have learned so much from this project and could not have done it without the wonderful people in our communities.  This project went from zero to sixty almost over night.  Right from the start, we received major support from friends, family, friends of family and strangers who got wind.  We received support from religious groups, senior centers and even a lobby firm!  Much to our surprise, we had major companies such as target and Wegman's join the effort.  To all of you, we say thank you and we look forward to working with you in the very near future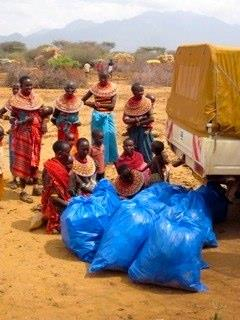 We have already begun working with Lori on what will be the largest bag collection effort ever!  It is set to take place in Kenya, in August of this year.  No matter where you are in the world, if you would like to participate please contact Patrick Halligan or Lori Robinson.
We also invite you to watch this youtube video a past collection executed by Lori and Africa Inside.
Everytime I've done this project, I'm touched by the enthusiastic response to our shopping totes from America.  And I am motivated to re-evaluate how much I take for granted here in my country. –Lori Robinson